Have Business Cards on Exclusive Materials Printed Online - Exclusive Business Cards for a Unique First Impression.
Exclusive papers for an exclusive impression from the very first contact; because when you hand over business cards to potential business partners and customers, it is not only important THAT the contact details are handed over; it is also a question of HOW or even better ON WHAT they are presented. In addition to the aesthetic, primarily achieved through an unmistakable layout, tactile sense also plays a role here - after all, business cards are passed from one hand to another. The choice of the right paper is therefore a crucial factor in determining whether a business card is worth keeping for a long time. But what type should I go for? Your online print shop printworld.com has a few variants on offer:
Ivory Cardboard
Chromolux Pearl
Grass Paper
Linen Cardboard
Offset Paper
Solid Bleached Sulphate (SBS) Board (330g and 400g)
Black Cardboard
Coated Art Paper matt (400g)
Beer Mat Board
With so many possibilities, it is not easy to choose - especially if you aren't familiar with all of the paper types. But there's an easy solution to this problem: we will introduce the exclusive materials for your printed business cards one by one.
What Is Linen Board?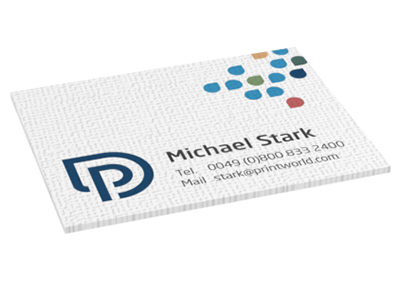 Your contact details appear clearly structured on linen. Both fingers and eyes will find themselves glued to this paper. This is due to its embossed surface, which creates a relief-like pattern. In addition, our business cards on linen paper with a grammage of 300g are also very sturdy.
Please note: Like offset paper, linen board is an uncoated material that absorbs ink more intensely than coated variants. The surface's texture further enhances this effect. Pictures are thus less intensively accentuated, but the business card on linen board is a real eye-catcher for presenting contact details.
What is Ivory Board?
Ivory board also belongs to the family of exclusive uncoated papers. And to pre-empt any misunderstandings right away: Our ivory board is a bright white material with a matt surface.
Your business card will look especially classy if you combine ivory board with a special colour. You can print in up to three HKS or Pantone shades from our extensive range of spot colours. Just take a look at our business cards with spot colour(s) and choose your favourite(s).
What Is Wood Pulp Cardboard?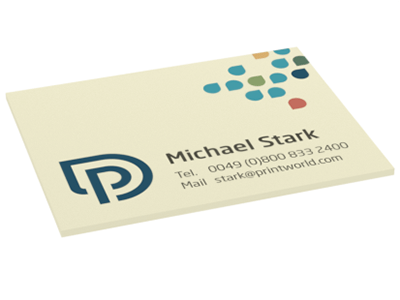 Wood pulp cardboard doesn't just make a good material for drink coasters. The natural product can also be used for business cards - and not only for breweries and pub owners. Wood pulp cardboard is neither coated nor bright white; however, it is precisely its rough surface and slightly yellowish colouring that make it stand out and make an impression. So why not break new ground and have business cards printed on wood pulp cardboard? Or take it one step further and use a coaster as a business card? Both are possible at printworld.com.
What Does the "Chromo" in Chromo Sulphate Board and Chromolux Pearl Actually Mean and What Makes Them Both so Special?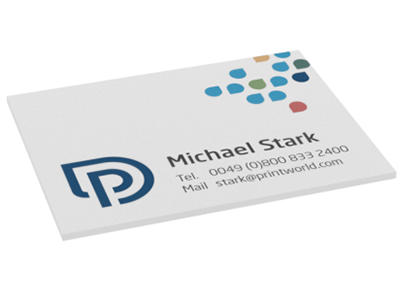 "Chromo" comes from Greek and means "colour". Though that doesn't mean that chromopapers and boards are coloured materials. It instead refers to their application, i.e. they are used in multicolour printing.
Your online printer printworld.com offers business cards printed in two "chromatic" variants.
We offer the classic chromo sulphate board, also known as SBS Board, a coated board with a matt surface, in the weights of 330g and 400g.
By the way, the "sulphate" in the name derives from the manufacturing process, the so-called sulphate process. In short, a pulp is made from low-grade wood and plant parts, which can then be further processed into high-quality materials such as SBS board. However, prior to that, the cardboard is coated. This is how we achieve the characteristic smooth, matt and white surface, which is then excellent for printing and allows colours to shine.
Important - if you are weighing up whether it is the right exclusive material for your business card, it should be added that the SBS board also scores points for its high stability thanks to its processing and treatment. Exactly what you need if your business card is in constant use. Paper thickness and volume are also a simple trick to attract tactile attention.
Not quite as thick, yet strikingly glossy, is the "Chromolux Pearl" paper variety, featuring a classic matt-coated reverse side. The front side is the most eye-catching feature with its mother-of-pearl white surface.
Our tip: The mother-of-pearl effect is on one side and is usually used on the front. Alternatively, you may have other plans for your layout and want to highlight certain information on the back. This is easily done by providing the data "laterally reversed", i.e. the front side becomes the back side and vice versa.
---
What Paper Weight Is Best for Business Cards?
What else sets our business cards on exclusive materials apart? They are almost all thicker than a standard business card. Traditional cards generally have a weight of between 170g and 250g. Our exclusive papers only start from there, because from ivory board to wood pulp board, they have a paper weight of between 246g and 480g - thus killing two birds with one stone, as they appear classier and are simultaneously more stable and durable. But don't worry: they'll still fit in your business card holder.
By the way:you can also order classic offset and coated art papers on thicker paper, weighing 350g and 400g respectively.
---
At What Weight Do We Start Talking About Cardboard and When Does It Still Count as Paper?
Cardboard is thicker than paper, has a higher volume and is also more rigid. While this is generally the case, it is not a distinguishing feature. You can find relatively thin cardboards with weights of less than 200g, as well as papers of 250g and more. What makes cardboard cardboard is its complexity. It is usually made up of several layers of differing thickness and, in addition to paper, can also consist of different materials, although in most cases it is made from a combination of several layers of paper.